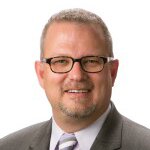 Resilience
I was recently speaking at an allied profession's board meeting and was asked how landscape architects are responding to the issue of resilience.  I had to pause, because in many ways we're not doing anything differently than what we've always done.
Resiliency is inherent to how landscape architects are wired.  It is who we are and what we do.  We work with the land and nature, not against it.  Our profession and the Society have shown resiliency through the past few difficult years.  Much like Colorado's beloved Aspen groves, which are strengthened by devastating forest fires and survive avalanches, our professional roots are interconnected and we are emerging stronger than ever.
Denver is one of the few cities that was not built on a road, railroad, lake, navigable river or body of water when it was founded.  It just happened to be where the first few flakes of gold were found in 1858, but today it's one of the greenest, healthiest, and, yes, most resilient, cities in the world.  From our central location downtown, we can immerse ourselves in its rich landscape architecture legacy, dating from the Olmsted Brothers to the many award-winning designers who are shaping the city today. On the following pages, you'll see hundreds more reasons to attend.
Be resilient, show your strength, and join us in Denver!
Mark
Mark A. Focht, FASLA
ASLA President
ASLA Annual Meeting Education Advisory Commitee
Michael Albert, ASLA
Design Workshop, Inc.
James Burnett, FASLA
The Office of James Burnett
Warren Byrd, FASLA
Nelson Byrd Woltz Landscape Architects
Todd Hill, ASLA
DTJ Design
David Kamp, FASLA 
Dirtworks, PC
Mark Klopfer, ASLA
Klopfer Martin Design Group
Eric Kramer, ASLA 
Reed Hilderbrand
Shannon Nichol, ASLA
Gustafson Guthrie Nichol, LTD
James Richards, FASLA
Townscape, Inc.
Thomas Ryan, FASLA
Ryan Associates
Jim Schuessler Jr., FASLA
BNIM
W. Gary Smith, FASLA 
W. Gary Smith Design
Daniel Tal, ASLA
BrightmanTal
Christine Ten Eyck, FASLA 
Ten Eyck Landscape Architects
Andrew Wilcox, ASLA
Cal Poly Pomona
Colorado Host Chapter Leaders 
Robert Berg, ASLA
Abraham Medina, ASLA
Host Chapter Co-Chairs
Angela D. Dye, FASLA
William E. Wenk, FASLA
Field Sessions Co-Chairs
Chris Perry, Affiliate ASLA
Jesse Young, ASLA
ASLA/ACE Mentor Program Legacy Project Co-Chairs
Susan Morris-McCabe, ASLA
Andrea Rutherford, Associate ASLA
Host Chapter Booth Co-Chairs